When it comes to decorating your living room, one of the most commonly used rooms in any home, there's bound to be challenges when looking to get the look right. Especially if you're working with a challengingly small space. To make your efforts as easy as possible, we surveyed interior designers for their takes on tried and true small living room furniture ideas so you can make the best use of the space you have, with confidence.
As it goes without saying, if you have a small living room, conjuring savvy and stylish ways to store things and make the most of your space can be tricky. To make the design process simpler, these must-try living room furniture ideas are sure to help maximize your space without having to overthink every aspect. From coffee table alternatives to furniture placement cues that'll help with traffic flow, here's everything you need to know.
STICK TO SYMMETRY
When it comes to getting furniture placement right in a small living room, maintaining symmetry is key for continuity and balance. By aiming for symmetry, you'll have an easier time making everything work while adding a needed sense of visual stability.
In general, a rule of three's will come in handy, like pictured above. This will help to keep everything feeling conversation and intimate.
BRING IN MIRRORED SURFACES
When it comes to affordable living room furniture ideas for small spaces that'll instantly make a huge difference, high-shine mirrored and reflective surfaces will make your small living room appear brighter, larger, and grander.
Plus, they'll be sure to add just the right amount of everyday glamor while making everything look more expensive and feel more luxurious.
GO TONAL
Sure, keeping small spaces clean can be a challenge in and of itself, but by going for a completely tonal color scheme in a light hue, your living room will appear larger and less cramped.
But that doesn't mean that everything has to be all white. Instead, bring in small accessories for a hint of needed color and add tonal textures for needed visual play.
FLOOR TO CEILING DRAPES

Another cost-effective and genius take on living room furniture ideas for small spaces are floor to ceiling drapes. Even if you don't have an expansive row of windows to treat, by bringing in floor to ceiling drapes you'll be sure to make your ceiling feel higher and the room generally more expansive.
When it comes to picking the right curtains for a small living room, our interior designers suggested going for semi-sheer all white organza styles as they won't add any unneeded visual weight.
A STRIKING SETTEE
Create a stunning parlor-like feel in your living room by skipping out on a bulky couch and going for a settee paired with petite occasional chairs.
The great thing about a settee for a small living room is that its easier to move than a couch when more floor space is needed, and it won't make the room feel blocked off thanks to its slim legs.
GO FOR BOLD

Just because you're on the hunt for living room furniture ideas for small spaces doesn't mean that you have to limit yourself from making a bold statement.
On the contrary, go for the unexpected to create striking visual play and bring in asymmetrical pieces, introduce curves, the more avant-garde, and play with a juxtaposition of scales to make your small living room feel unique and well-judged.
BRING IN OVERSIZED ART
Spark endless conversations by bringing in bold, oversized, and visually stimulating art pieces that'll tie everything together while making your living room feel all the more full of personality.
And when it comes to displaying art in a small living room, surprise everyone by using a single oversized piece to cover an entire wall, similar to an accent wall – which is also a great idea itself.
SKIP A COUCH
Just because you use it primarily as an area for entertaining doesn't mean that you have to stick to rules that don't make sense for your living room.
To make the most of the floor space you do have to work with, why not completely skip out on a couch altogether? As when it comes to living room furniture ideas for small spaces, they can take up a major portion of the room you are decorating. Instead, consider creating a grouping of chairs to keep the area conversational and intimate that you can easily move around when needed.
TRUNK STORAGE
Trunk storage makes for a stylish alternative to a coffee table to consider if you don't have much space in your living room to work with. You can stow away items you don't often use in attractive trunks, adding to your décor and your storage solutions at the same time.
The wonderful thing about trunk storage is that you can also stack them and make use of them as a surface and for extra seating when needed. Use the top like you would a coffee table and display plants, photos, and art or use them as a lamp stand to brighten and make the most of your space with this living room furniture idea.
LOVESEAT
If there are only one of two of you living in your space, one of the best alternatives to traditional living room furniture ideas for apartments is a loveseat that comfortably seats two.
Loveseats are a great replacement for a larger sofa – being smaller, they take up much less space, giving you room for the rest of your furnishings and providing you with the added bonus of being able to relax at the end of the day.
VINTAGE FURNITURE
Over the years, furniture has increased in size, but our rooms haven't, meaning modern furniture can take up a lot of space in your room. Vintage furniture is often much smaller than more modern pieces, as period furniture had a tendency to be more delicate.
Scour local antique markets, estate sales, and secondhand stores for vintage furniture to help you make the most of your living space and to give you some inspiration on living room furniture ideas for small spaces. As when it comes to realizing the décor of a small space, it pays to be inventive while playing with various small scales.
PERIMETER SHELF
A perimeter shelf will go a long way in helping you use otherwise dead space in your living room. If you have items you want to keep on display but don't have the surface space for them below, then floating shelves will make for the ultimate of living room furniture ideas for small spaces.
Use a perimeter shelf to display collectibles, art, and treasures without them intruding too much in your space and stealing precious square footage. Even better if the shelves you bring in are glass to keep the look light and airy.
VERTICAL STORAGE
When it comes to smart living room furniture ideas, a wall of shelving is key so you can take advantage of vertical storage solutions. If you have the ceiling height and the wall space for one, they can be a life-saver.
Make use of the wall space you have and install shelving and storage units all the way up, providing you with plenty of storage in your living room. Store seldom-used items at the top of your vertical shelving and the most used items towards the bottom to save you having to struggle to reach things you need on a regular basis.
FLOATING STORAGE
Floating storage is a simple and effective way of providing you with the storage you need while at the same time helping your living room look as spacious as possible. Living room furniture ideas like a floating storage cabinet will enable you to see all the way from wall to wall, tricking the eye into thinking the space is bigger.
The more floor space you can see, the better. This is also one of the best living room furniture ideas 2019 for helping your room feel less cluttered, as the lines will appear clean and crisp as you look around the room.
STORAGE OTTOMANS
A storage ottoman is an excellent piece of multi-use furniture, perfect for living room furniture ideas for apartments. If you don't have much space, a storage ottoman gives you additional storage, a coffee table, a footstool, and a spare seat all in one, meaning you don't need to have all these items as separate pieces of furniture in your room, saving you loads of space.
And they can easily be sourced in a myriad of styles that won't break the bank.
STOOLS
Stools are a godsend when it comes to decorating a small living room. Low-lying stools can double as extra seating or surface space, giving you a place to put plants, lamps, and decorative objects, or to use as additional seating or as coffee tables.
They make for a great versatile living room furniture idea which will save you needed space and give your living room a well-judged feel. And since they are small in scale, they are also easy to move around.
AN ENTERTAINMENT UNIT
An entertainment unit is a brilliant storage solution for a small living room. It might seem counter-intuitive to take up space with a big piece of furniture, but trust us on this one.
An entertainment unit affords you storage for your TV and any games consoles, as well as extra storage for anything else you need to store. You can even get units with basket storage or cabinetry beneath, so you can conceal anything you don't want on show, like blankets and games when looking for savvy living room furniture ideas.
NESTING TABLES
If you are short on space in your living room, taking up space with a large coffee table and side tables can leave you struggling. As an alternative, nesting tables are one of the smartest of all the living room furniture ideas, and for good reason.
With them, you'll have one table to put your coffee down on every day and three tables stashed away for when you have guests and need more surface space.
BUILT-IN STORAGE SOLUTIONS
A wall full of storage will solve all of your problems in a smaller living room. Dedicating an entire wall to storage means you don't have to take up any extra floor or wall space with storage furniture, allowing you to use the rest of your space for coffee tables, sofas, and armchairs.
Help your space to look as large as possible by having your built-in storage composed in a light color, so it doesn't distract the eye too much – another one of our favorite living room furniture ideas for 2019.
DITCH THE COFFEE TABLE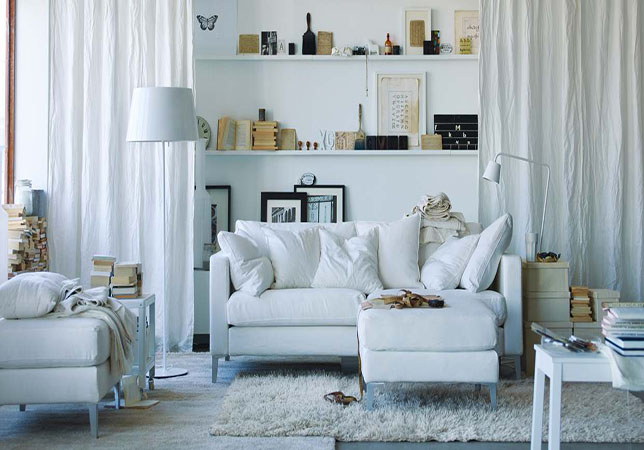 The thought of this might send you running to the hills, but don't make your getaway just yet. If you skip a coffee table in a small living room, your space will instantly feel more spacious and you will soon get used to it not being there.
Replace your coffee table with a couple of small side tables and you'll be on board with an unexpected living room idea for small spaces in no time.
GO CLEAR
If you can't do without table surfaces, do your small living room a favor and go for acrylic or Lucite pieces instead. These materials make an interesting change from the norm, in living room furniture ideas 2019 – a welcome change from the traditional materials used for living room furniture.
And they boast the added bonus of being completely clear ti allow your living room to feel as spacious as possible as they won't block anything in sight.
GLASS TOPPED TABLES
Use as much glass as possible when considering small living room furniture ideas. The more glass you can include the better, as being able to see through your furniture will make your space feel dramatically larger.
Whether this is via a mirror on the wall or a glass-topped side table, your small living room will look all the better and bigger with these living room furniture ideas.